Top-Rated Fence Staining in Nashville, TN
Increase your fence's lifespan and appeal with fence staining! Call SafeGuard Fence & Deck at (615) 472-2117 for a complimentary quote in the greater Nashville area.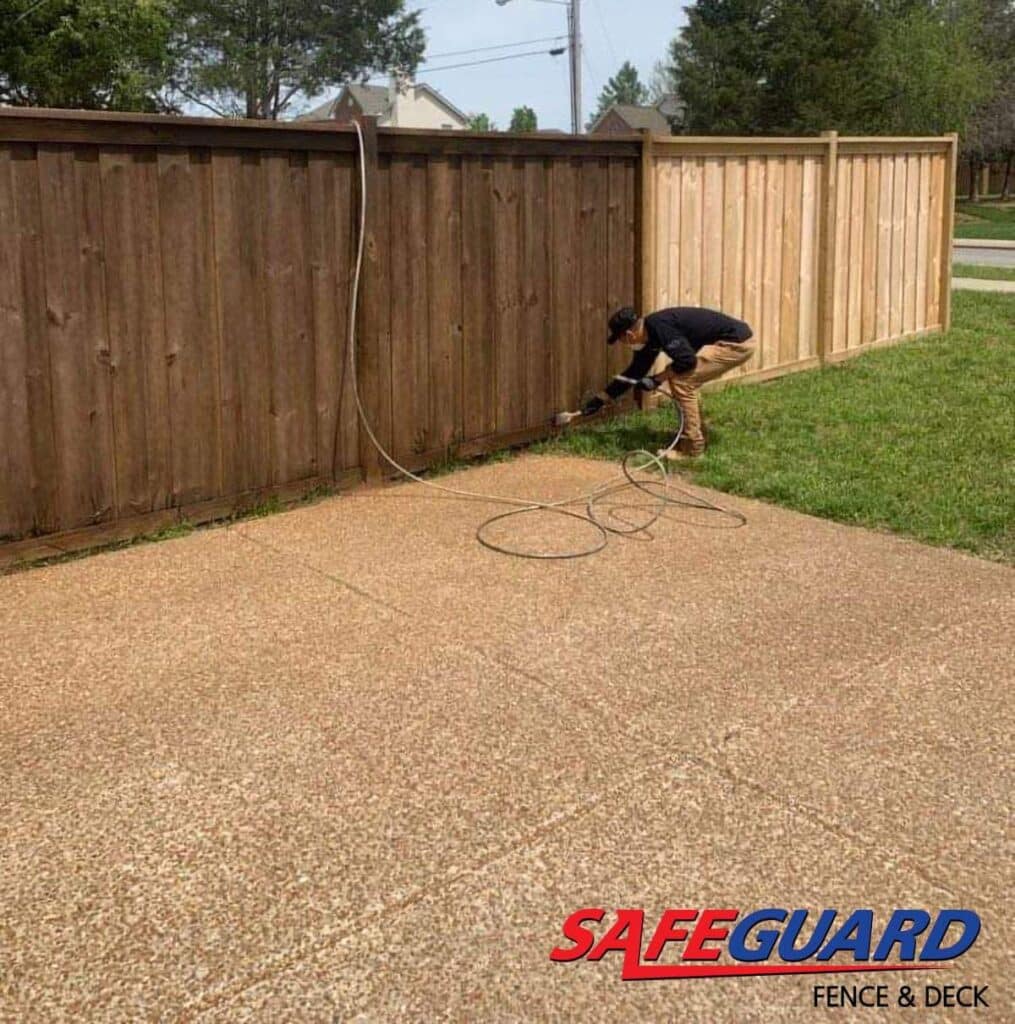 Wood fencing is a great option to enhance privacy, clearly identify property lines, and provide a windbreak for your Nashville property. You may have noticed that it's time for some maintenance on your wood fence if it's showing the effects of weathering or deterioration. Contact SafeGuard Fence & Deck for information about wood fence staining.
Our expert fence installers and contractors have served the Nashville area for over 20 years. During your free quote appointment, one of our experienced contractors will come to your property and explain your best fence staining solutions. We offer warranties on all of our materials and services. Choose your best value financing to stay within your budget.
Do you need a more affordable option for solid construction privacy fencing? Consider switching to a solid vinyl fencing option!
Why Should I Stain My Wood Fence?
Staining your wood fence has many benefits, including:
Coordinating the color of your fence with your home's exterior or other outdoor furnishings using a colored stain
Restoring old, weathered wood
Protecting against further weathering
Think about these many reasons when considering whether to take advantage of professional fence staining in Nashville, TN.
What Happens If I Don't Stain My Wood Fence?
Unstained wood fences are susceptible to damage and decay from weather, water, and pests. Damage can include rot, pitting, warping, color fading, and weathering.
Fence staining helps preserve your investment by protecting the wood and extending its lifespan. Some stains are waterproof, creating a protective seal and a beautiful finish. SafeGuard Fence & Deck offers the highest quality, professional fence staining available in Nashville.
When to Pursue Fence Staining in Nashville
Humidity is important when staining wood. Ideal weather for staining your fence is when humidity is no higher than 12-13%. SafeGuard Fence & Deck will only schedule your staining services when we know we will achieve a top-quality, professional result.
Caring for Older, Aging Wood
Even though you want to apply stain when your fence is new, SafeGuard Fence & Deck can still help wood fences that are starting to show signs of fading and weathering. Prevent further deterioration with protective fence staining to resist additional weathering or pest intrusion to your wood fence.
Is fence staining alone not enough to restore your old wood fence? Ask us about installing new wood fencing around your home or business!
More Reasons to Choose SafeGuard Fence & Deck
Professional fence staining ensures experienced application of the stain that we protect with full-service warranties. Although you can stain your fence yourself, our SafeGuard Fence & Deck experts recommend utilizing our licensed and insured professional fencing contractors. We have been serving our neighbors in and around Nashville for over 20 years.
SafeGuard Fence & Deck offers professional fence staining in Nashville, TN, and the surrounding areas. Call us today at (615) 472-2117 for a free estimate!