Residential Fence Installation in Nashville, TN
From a simple picket fence to a solid privacy fence, trust the experts at SafeGuard Fence & Deck for your home fence installation in Nashville, TN.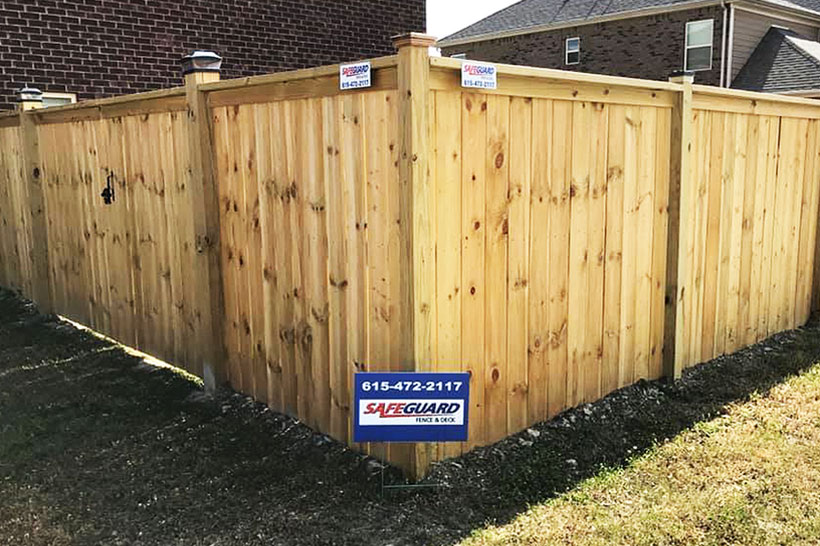 Have you considered fencing for your Nashville home? At SafeGuard Fence & Deck, one of our licensed and insured fence installation experts can help you determine your best fencing solution. Whether you just want to secure your back yard from nosy neighbors with a privacy fence, or wrap your entire lot line with chain link fencing, we can recommend your best options.
Find the right fence for your home with aluminum fencing options. Aluminum is secure, weather-resistant, and adds curb appeal to your home..
Matching the Right Fence to Your Residential Needs
If you're looking for a residential fence installation in Nashville, you probably have a a specific need for your fence.
Solid Fences for Privacy
A fence without holes or gaps means all-around privacy from prying eyes. These privacy fences also improve property value since they protect your residence and keep your assets hidden. Make sure your neighbors don't find out about your new firepit and grill until you invite them over for your next cookout.
Customizable Fences for Aesthetics
Any fence from SafeGuard Fence & Deck is customizable. For instance, a contractor will shape a wooden fence and provide a finish to give it a different style or color. We also carry chain link fences with different colored plastics, or you can opt for a sturdier steel link fence with a colorful coat.
Fences That Provide Safety
Select a taller fence that meets your roofline for increased security around your property. Some fencing types can include climbing deterrent attachments at the top railing, as well as locking gate options accessible only by keys or keypads.
More on Our Fences
We offer a range of styles and materials to meet your residential fence installation needs.
Vinyl
Vinyl or PVC fences, ranging from a picket fence look to seamless impenetrable walls, consist of polyvinyl chloride resin, the most durable material for fence installation in Nashville, TN.
Wood
Our wooden fences, built with pressure-treated pine, give your home a rustic look while remaining intact for decades despite weather and insect conditions.
Chain Link
Chain link fences are the best-valued option, yet one of the most durable materials. The netted design offers security and visibility for children and pets.
Aluminum
Aluminum fences are common choices for their elegance, rust and corrosion resistance, and strength. They let the sunlight into your yard while keeping up a protective barrier.
Do you need fencing to cover your agricultural acreage? Choose one of our farm fencing solutions to protect your pastures.
SafeGuard Fence & Deck Services
We specialize in residential and commercial fencing solutions. SafeGuard Fence & Deck has served the Nashville area for over 20 years. We pride ourselves on top-rated customer service that includes financing, warranties, and free estimates. Choose us for your residential fencing needs.
Call SafeGuard Fence & Deck today at 615-472-2117 and schedule your free estimate for residential fence installation in Nashville, TN.